Madla School
In February 2005, Jennifer and Vic returned to Panna and brought with them the £300 that Jennifer had raised by selling prints and giving lectures. They talked to Vinni at Ken River Lodge about where the money would be most useful. One of the areas that interested Jennifer was helping the local villagers to understand the importance of wild tigers and the national parks to their local economy, and Vinni told them that the local primary school had very poor classrooms but that land was available, so they decided to start to build a new school.
When Jennifer returned the following November with
more funds from selling her prints
, the walls of the school were up and work had started on the roof. The project was ably supervised by Bhavna Kumari and together they discussed what to do next. Finishing three classrooms enabled the children to move in the spring of 2006, and another two classrooms were added later the same year for a total of five. Plans were made for a pump and a toilet block which were completed later.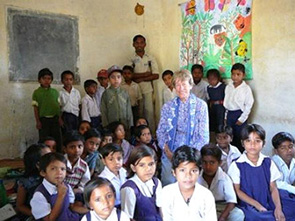 The classrooms had high ceilings with circulating fans, good size window openings and hard packed floors. Other visitors to the lodge were inspired to contribute to the costs or to help with the work, and a group of American students helped out by painting the walls.
In November 2006, with major construction completed, they were ready to start with the park-awareness part of the project, and Jennifer arranged and paid for the top class to go into the park for a dawn drive. The villagers cannot afford the park entrance fees and the four teachers they took with them had never before been inside the park gates. After three and a half hours enjoying the forest they were fortunate enough to encounter the first tiger to be seen in the park for three weeks, so the children saw their first wild tiger from the back of an elephant. The plan each year is to give the older children the chance to see the fauna and flora of the park for themselves before they leave.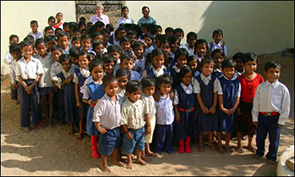 In 2007, Jennifer sponsored two teachers, Marett and Simon from England, to spend most of October teaching at the School. Bhavna provided them with free board and lodging at Ken River Lodge, and the children learned some valuable English and created some colorful mural projects. The plan is to extend the program into some of the other villages around the edge of the park with educational videos to promote better understanding of the conservation issues and the park environment.