Tigers !
In February 2004 at age 67, Jennifer fulfilled a lifetime ambition to travel to India, the land of the tiger. She and her husband Vic joined the first Tiger Study Group run by Julian Matthews of Discovery Initiatives, to the Panna Tiger Reserve for ten days of serious study into prey species and habitat.
For the 5 days prior to the Discovery Initiatives expedition, they arranged to stay in Bandhavgarh Tiger Reserve as tourists, under the expert guidance of Vivek Sharma. There they had the wonderful experience of watching a young tigress traverse the hillside beside their open jeep, and cross the track behind them. During the next few days they had numerous encounters with the tigress and her three siblings, all of them deeply moving. As an artist, Jennifer knew that her whole approach to
painting these critically endangered animals
had been changed forever.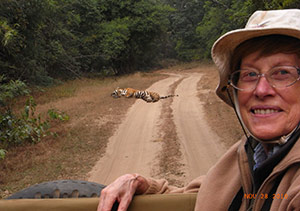 The Panna Tiger Reserve was a different experience to the one she had in Bandhavgarh. Poachers were having a significant impact and the tigers were becoming increasingly scarce. So the group concentrated on deer and antelope, but were lucky enough to meet an eight year old tigress that they encountered from elephant back several days running. After they left, the tigress vanished, and was never seen again.
During the expedition they stayed at Ken River Lodge where their hosts, Shyamendra Singh (Vinni) and Bhavna Kumari, employed young men and women from Madla village just outside of the park gate to work at their lodge. They were also training young men to work as guides for visitors in the Park, and Jennifer resolved to sell prints of her paintings and to return to Panna and give something back to those who had provided her with such a great experience and pleasure.
Over the next 10 years, occasionally accompanied by her husband Vic, Jennifer returned to India twice a year to explore the tiger reserves. She visited Corbett National Park and Kanha National Park, but always Bandhavgarh and particularly Panna Tiger Reserve held a special place in her heart. Over this period she used the proceeds from her
animal painting
and speaking engagements to support initiatives to help preserve Tigers in their natural habitat, including one to compensate farmers for livestock lost to tigers, another to purchase travel corridors to allow male tigers to travel between the parks, and her personal project, to help the local villagers to understand the importance of wild tigers and the national parks to their local economy. This project is described in much more detail under the
Madla School
section in this website.
Do not cut down the Forest with its Tigers
and do not banish the tigers from the forest.

The Tiger perishes without the forest
and the forest perishes without its tigers.

Therefore, the tiger should stand guard over the forest
and the forest should protect all its tigers.

from the Mahabharata, Udyogaparvan, 29.47-48 circa 400 BCE