about Jennifer Buxton
Jennifer Buxton started to draw people and animals when she was very young, and by the age of 10 she was taking weekly lessons with Marguerite Frobisher at her School of Animal Painting in Bushey, Hertfordshire (England). At 18, she gained a scholorship to the Byam Shaw School in Kensington, where she won a prize in her final year.
She initially worked with oils and pastels, but after marrying a young naval officer, Victor Buxton, in 1958 and, while bringing up her young family, she started to paint miniature portraits in watercolor being inspired by an elderly professional miniaturist, Boyd Waters. Her talent for recreating a likeness was prodigious, and after a period of experimentation she perfected her own method of painting tiny portraits on ivory and vellum and, over a number of years, became aclaimed as one of the UK's best miniature portrait painters.
Jennifer was elected into the Royal Society of Miniature Painters, Sculptors and Engravers (RMS) in 1969, served as the society's Honorary Secretary for nine years, and was on the Board of Governors of the Federation of British Artists. In 1985 she was awarded the Royal Miniature Society's Gold Bowl in its inaugural year for the best miniature portrait in an exhibition of over 700 works. She won the Bell Award for the best miniature portrait in the Hilliard Society Exhibition in 1986, and the Mundy Sovereign Award for the best portrait in the RMS Exhibition in 1987. She exhibited work all over the UK, as well as in Paris, Canada and the USA where she won the prize for best portrait at the Miniature Society of Florida Exhibition in 1993.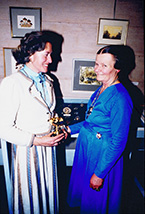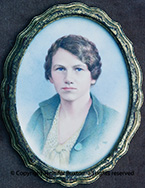 In 1988 Jennifer retired from the Royal Miniature Society to concentrate on painting and drawing in larger formats. Over the ensuing 20 years she continued to build a large collection of work including landscapes of her beloved Lake District, other locations in the UK, Canada, France and Australia, portraits of tigers, horses, dogs, cats, and other animals, and also Her Majesty's submarines. From 1991 to 1994 she was Chairman of the Ulverston Society of Artists, and for many years taught portrait painting in Bardsea and Ulverston. She was in great demand on the local lecture circuit as a speaker on such diverse topics as miniature portrait painting, the adventures of a naval captain's wife, and her ever popular cooking disasters.
After an initial visit to India in 2004, Jennifer spent the last years of her life raising money and awareness for preserving
wild tigers
within the Panna and Bandhavgarh National Parks in Madhya Pradesh. With her financial assistance, the
school in Madla Villiage
outside the Panna Tiger Reserve was rebuilt and expanded, and the children taken on trips into the park to help them understand how tigers and their natural habitat contribute to the local economy.
After an illness lasting several years, Jennifer Buxton passed away on January 17, 2017 at the age of 79. She is survived by her husband Victor, and her sons Henry and Tom. She has left a personal legacy of over 3000 pictures and sculptures in many media, as well as portraits and landscapes painted on commission in private collections all over the world.
Epitaphs for Jennifer Buxton RMS HS
Jennifer was the very first miniature painter I ever met. She impressed me immediately by the amazing quality of her work. Not only was she an outstanding master miniaturist, Jennifer was a truly lovely person. Always smiling, she always transmitted her enthusiasm for everything she did to those around her.
Bill Mundy, RMS