Animals and Birds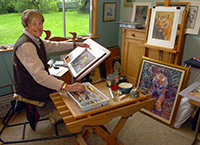 Jennifer's love of animals and birds came across vividly in the many animal paintings and drawings she created throughout her life. This is a small selection of her work: many other examples are in private collections all over the world.
More animal pictures can be found within the
India
and
Collections
Galleries in this website.
Dogs
Dogs were an important part of Jennifer's family throughout her adult life. The pictures here are of one of her first dogs, Sharkey the Cocker Spaniel, of her Norwegian Buhund, Chimo (Yukon Jack), and of her last dog Meg, who was a rescue. Others are some of the drawings and paintings she did on commission.
Cats
Horses
As a young girl, Jennifer rode horses when she could at a stable just outside London. As an adult, she and her husband Vic owned horses when they lived in Bath, and also later in the Lake District. Most of these pictures are of her own horses: a Palomino mare, Musette, a Connemara called Shara, and Lorri, the foal from one of her Connemaras. Her husband Vic had a fell pony, Rosie, which she also painted many times, and which lead to commissions with the Fell Pony Society for cards and drawings.