Animals and Birds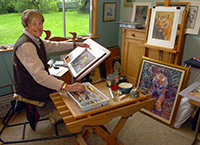 Jennifer's love of animals and birds came across vividly in the many animal paintings and drawings she created throughout her life. This is a small selection of her work: many other examples are in private collections all over the world.
More animal pictures can be found within the
India
and
Collections
Galleries in this website.
Other Animals
Birds
Jennifer always had a love for birds. Here we have a small selection of her pictures: the pigeons and the cockerel belonged to her friend Clive, whose hen coop provided not only inspiration, but also fresh eggs! The black-throated divers are Canadian Loons, truly the voice of the Canadian wilderness on long summer evenings.
India