Landscapes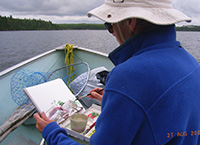 Everywhere Jennifer went, she had a sketchbook with her, and her collection of landscapes covers scenes from all over the UK, as well as from France, Austria, Canada, the USA, India and Australia. This is a small selection of her work which we'll be adding to over time: many other examples are in private collections all over the world.
More lanscapes can be found within the
India
and
Collections
Galleries in this website.
English Lake District
The English Lake District National Park is one of the most picturesque regions of the UK, and the number of landscapes Jennifer painted there is a testament to her love of the area. Some of these paintings date from the 1960's when she lived in Lowick; some are from holidays spent there after moving to Bath; but many are from after she and Vic moved back to the Lake District permanently in 1983.