Landscapes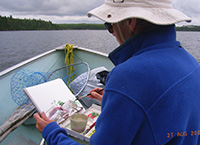 Everywhere Jennifer went, she had a sketchbook with her, and her collection of landscapes covers scenes from all over the UK, as well as from France, Austria, Canada, the USA, India and Australia. This is a small selection of her work which we'll be adding to over time: many other examples are in private collections all over the world.
More lanscapes can be found within the
India
and
Collections
Galleries in this website.
Other parts of the UK
Jennifer seldom travelled far without a sketchpad or a camera, so her collection of paintings from around the UK reflects the many places she lived and visited over the course of her lifetime. The areas surrounding Bath, Plymouth and Caithness in the North of Scotland were particular favourites, but so too were the Isle of Lewis in the Outer Hebrides, and the Home Counties around London where she grew up.