Landscapes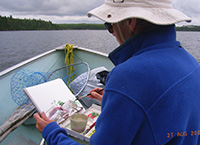 Everywhere Jennifer went, she had a sketchbook with her, and her collection of landscapes covers scenes from all over the UK, as well as from France, Austria, Canada, the USA, India and Australia. This is a small selection of her work which we'll be adding to over time: many other examples are in private collections all over the world.
More lanscapes can be found within the
India
and
Collections
Galleries in this website.
Landscapes of other Countries
Jennifer particularly loved Australia, where the vibrant red and earthy colours fuelled her imagination, ands she went on a number of expeditions into the outback with adventuresome friends and fellow painters.