Landscapes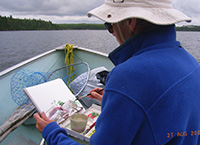 Everywhere Jennifer went, she had a sketchbook with her, and her collection of landscapes covers scenes from all over the UK, as well as from France, Austria, Canada, the USA, India and Australia. This is a small selection of her work which we'll be adding to over time: many other examples are in private collections all over the world.
More lanscapes can be found within the
India
and
Collections
Galleries in this website.
Canadian and US Landscapes
Jennifer first visited Canada in 1982 when her husband was posted to Kingston Ontario for a year. Inspired by the magnificent scenery and rich fall colours, she journeyed throughout the country, from the familiar terrain of Newfoundland and the eastern seaboard, to the towering peaks of the Rockies, and finally to the rugged coastline of Western British Columbia. A particular favourite was Vancouver Island, where she stayed frequently with her son Thomas during the 1990's.