Ulverston Exhibition, December 2017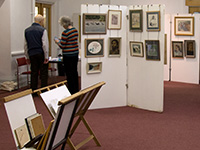 On 11 - 13 December 2017 there was an exhibition of Jennifer's artwork at the Coronation Hall in Ulverston, Cumbria. Approximately 200 paintings, drawings, miniature portraits and sculptures were on display, and below we've given you a look at almost all of the artwork that was exhibited.
If the walls in the photo look rather bare, it's because by the time it was taken. later on day #2, many of Jennifer's pictures had already been sold. But you can still enjoy almost all of them here.
See the
interview about Jennifer
from
That's Cumbria
with Jennifer's husband Vic
Landscapes of the English Lake District
The English Lake District National Park is one of the most picturesque regions of the UK, and the number of landscapes Jennifer painted there is a testament to her love of the area. Some of these paintings date from the 1960's when she lived in Lowick; some are from holidays spent there after moving to Bath; but many are from after she and Vic moved back to the Lake District permanently in 1983.