Ulverston Exhibition, December 2017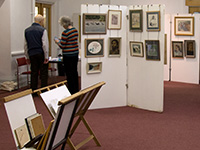 On 11 - 13 December 2017 there was an exhibition of Jennifer's artwork at the Coronation Hall in Ulverston, Cumbria. Approximately 200 paintings, drawings, miniature portraits and sculptures were on display, and below we've given you a look at almost all of the artwork that was exhibited.
If the walls in the photo look rather bare, it's because by the time it was taken. later on day #2, many of Jennifer's pictures had already been sold. But you can still enjoy almost all of them here.
See the
interview about Jennifer
from
That's Cumbria
with Jennifer's husband Vic
Landscapes of other places in the UK
Jennifer seldom travelled far without a sketchpad or a camera, so her collection of paintings from around the UK reflects the many places she lived and visited over the course of her lifetime. The areas surrounding Bath, Plymouth and Caithness in the North of Scotland were particular favourites, but so too were the Isle of Lewis in the Outer Hebrides, and the Home Counties around London where she grew up.
Landscapes of Canada
Jennifer first visited Canada in 1982 when her husband was posted to Kingston Ontario for a year. Inspired by the magnificent scenery and rich fall colours, she journeyed throughout the country, from the familiar terrain of Newfoundland and the eastern seaboard, to the towering peaks of the Rockies, and finally to the rugged coastline of Western British Columbia. A particular favourite was Vancouver Island, where she stayed frequently with her son Thomas during the 1990's.
Landscapes of other Countries
This is a small selection of Jennifer's pictures from other countries around the world. She particularly loved Australia, where the vibrant red and earthy colours fuelled her imagination, ands she went on a number of expeditions into the outback with adventuresome friends and fellow painters.