Ulverston Exhibition, December 2017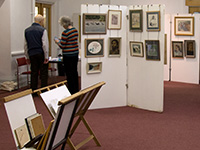 On 11 - 13 December 2017 there was an exhibition of Jennifer's artwork at the Coronation Hall in Ulverston, Cumbria. Approximately 200 paintings, drawings, miniature portraits and sculptures were on display, and below we've given you a look at almost all of the artwork that was exhibited.
If the walls in the photo look rather bare, it's because by the time it was taken. later on day #2, many of Jennifer's pictures had already been sold. But you can still enjoy almost all of them here.
See the
interview about Jennifer
from
That's Cumbria
with Jennifer's husband Vic
Drawings and Paintings from India
In February 2004, Jennifer fulfilled a lifetime ambition to travel to India, the land of the tiger. Over the course of the next 10 years she visited India on numerous occasions, and used the proceeds from her animal painting and speaking engagements to support efforts to help preserve tigers in their natural habitat. The pictures displayed here are but a small selection from her collection; more can be seen online in the
India Gallery
; see here too for information on
Jennifer's trips to India
.
Paintings of Submarines
As the wife of a Royal Naval Submariner, submarines were an important part of Jennifer's life for over 50 years. She was commissioned by Lady Eberle, wife of Admiral Sir James Eberle, then Commander-in-Chief Fleet, for 3 paintings to be hung onboard HMS Splendid after her commissioning in 1981. The paintings shown here reflect some from that time, but also from submarines that Vic served in during his career as a Naval Engineer Officer.
Drawings and Paintings of Still Life
Jennifer's still lives were often an exercise in precise control over chiaroscuro (light and shade). The feather is a story unto itself: dropped by an eagle soaring overhead in Australia, it became a totem that spanned families and generations and altered the way Jennifer viewed spirituality and the afterlife.