Ulverston Exhibition, December 2017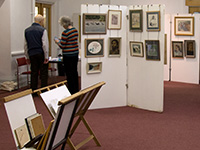 On 11 - 13 December 2017 there was an exhibition of Jennifer's artwork at the Coronation Hall in Ulverston, Cumbria. Approximately 200 paintings, drawings, miniature portraits and sculptures were on display, and below we've given you a look at almost all of the artwork that was exhibited.
If the walls in the photo look rather bare, it's because by the time it was taken. later on day #2, many of Jennifer's pictures had already been sold. But you can still enjoy almost all of them here.
See the
interview about Jennifer
from
That's Cumbria
with Jennifer's husband Vic
Miniature Portraits
For much of her professional career, Jennifer specialized in painting miniature portraits of people on ivory and vellum. She was elected into the Royal Society of Miniature Painters, Sculptors and Engravers (RMS) in 1969, served as the society's Honorary Secretary for nine years, and over the course of the next 20 years won numerous awards and recognition for her work as one of the UK's foremost miniature painters. Although the majority of her miniatures were painted on commission and are in private collections, the examples here represent portraits of family and friends, and some that she painted to further her skill and experience.
Larger Format Portraits
A miniaturist at heart, Jennifer's preference for painting small did not mean that she couldn't paint large when the need arose. Some of these drawings and paintings come from an art group Jennifer ran each Monday evening at her house in Bath, where a group of local artists met to foster their talents and learn from one another. Others date from her art school days in London, and from the large collection of sketches and drawings that she used as material from which to paint the miniature portraits that were her hallmark.